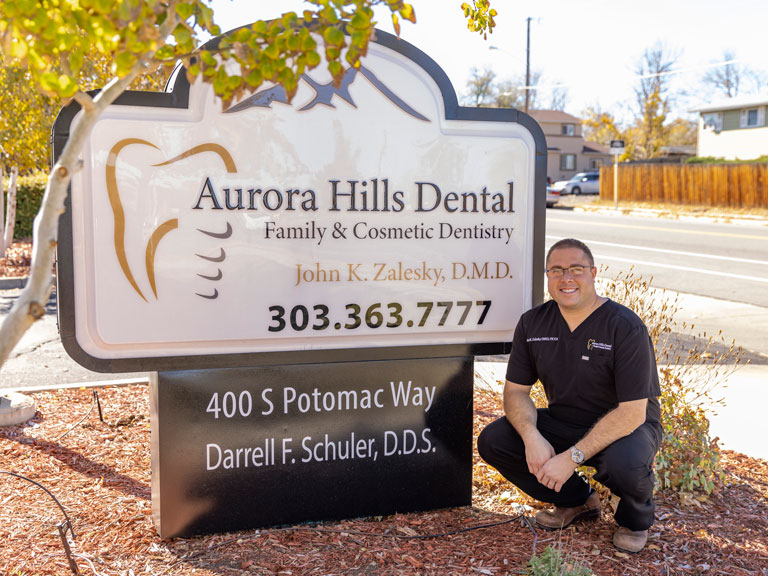 Dr. John Zalesky and our entire patient care team welcome you to our dental practice! At Aurora Hills Dental, we strive every day to bring the best in dental care to each of our patients by providing convenient, comprehensive care in a single location using advanced dental tools, technology, and techniques. 
We look forward to meeting you at your first appointment, getting to know you and your dental care goals better, and we hope to provide you with a lifetime of good oral health!
How To Prepare for Your First Visit
Please plan to arrive about 15 to 20 minutes early for your first appointment so that we can take care of all the necessary paperwork before your dental appointment begins. 
Be prepared to answer questions about your dental and medical history and plan to bring:
Your driver's license or other official identification

Your dental health insurance card and your medical insurance card

Previous dental x-rays from another office (if applicable)

A current list of all medications and supplements you are taking

Completed new patient forms
To save a bit of time during your first visit, we invite you to download and fill out our new patient forms from our website before your appointment. However, we have these forms available in our office for you to complete at the time of your appointment. 
What To Expect During Your First Visit
Your first visit is all about getting acquainted and establishing your care. During your first appointment, our front desk team members are here to help you take care of all your new patient paperwork to ensure we have a thorough medical history, patient file, and everything necessary for a simplified billing process. 
During your first dental exam, Dr. Zalesky and our team spend time getting to know you, talking with you about any concerns you might have with visiting the dentist, such as dental anxiety or fears, and discussing your dental health goals. 
Our dentist then examines your teeth and gums to establish a baseline of your dental health. Depending on whether we received dental x-rays transferred from another dental clinic, we might also recommend taking a fresh set of dental x-rays to screen for signs of problems that might not be visible to the naked eye. 
We then get you started with a treatment plan and at-home care regimen designed to help you stay healthy and achieve your smile goals. 
Aurora Hills Dental Goes Above and Beyond for Our Patients
At Aurora Hills Dental, we're committed to excellence and continuously strive to provide our patients with the best dental care.
Along with our welcoming, highly experienced team, we combine advanced dental treatments with the convenience of comprehensive care in a comfortable environment to achieve the highest caliber dental care possible for our patients. 
We hope to develop a long-lasting relationship with you to help you achieve your smile goals and maintain healthy teeth and gums for life! 
If you have any questions about what to expect during your upcoming appointment or what you need to bring with you, we welcome you to contact our office.