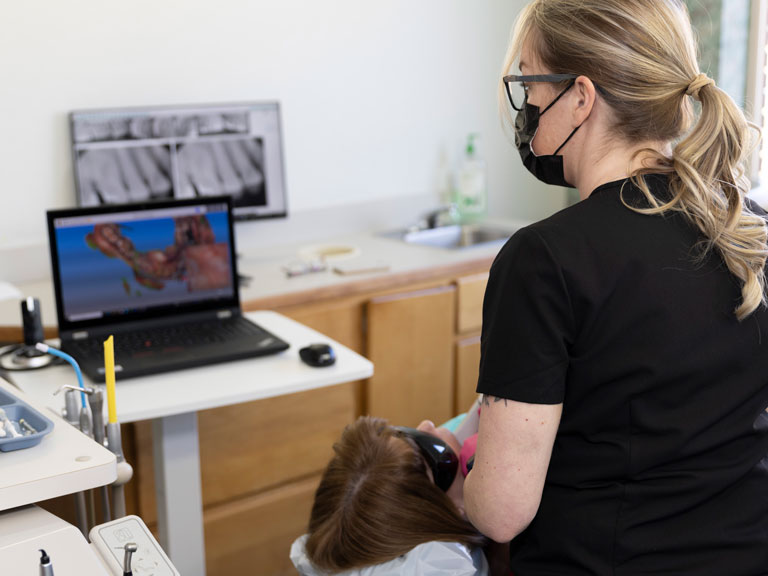 Like in all medical fields, advancements in dental care are continuously being made to improve patient experience and treatment outcomes. At Aurora Hills Dental, we do our best to stay abreast of the latest dental technology, tools, and treatments to always provide our patients with the highest-caliber dental care available. 
Advanced Dental Technology Available in Our Office
Our office is currently equipped with the following modern dental technology tools. We use these to assist with the diagnosis and treatment of patients and to implement superior documentation of the treatment process. 
Digital X-Rays
Rather than taking traditional x-rays with film, our office makes use of digital x-ray technology. Digital x-rays offer several benefits over traditional x-rays, such as:
Digital x-rays require shorter exposure times, greatly reducing the amount of radiation exposure patients experience to a highly safe, minimal amount.  

We do not have to wait for the development of digital x-rays to view them. Digital x-rays can be viewed instantaneously on a computer screen in the patient treatment rooms. 

Digital x-rays can be manipulated like other digital images, allowing us to enlarge them to more clearly view smaller structures. 

Digital x-rays can be easily transferred to specialists or shared with primary care providers to ensure your patient records are complete. 
Digital Impressions
Prior to the digital age, taking impressions of a patient's teeth meant the use of trays filled with sticky, goopy putty. Getting impressions right could be a fairly lengthy and uncomfortable process for patients. 
Today, however, we use digital cameras and computer technology to take digital impressions of a patient's teeth and other structures within the oral cavity. These impressions can be used to manufacture a variety of dental appliances and orthodontics, including ClearCorrect, in addition to helping us work with our patients to design desirable outcomes for cosmetic dentistry procedures. 
CAD-CAM
We use CAD-CAM (computer-aided manufacturing) technology in our office to create custom-designed dental appliances for our patients. This technology allows us to use digital impressions of your teeth to print or manufacture dental appliances that provide you with a perfect, comfortable fit. 
We use CAD-CAM technology to design and manufacture nightguards, athletic mouthguards, sleep apnea treatment appliances, dental bridges, and dental crowns. 
CO2 Laser
The CO2 laser is a special surgical tool that we use for various procedures in our office. The use of lasers in surgery accelerates patient recovery by eliminating the need to cut soft tissues with scalpels and sew them back up with stitches. The procedures performed using the CO2 laser are less invasive, result in less pain and inflammation, and mean a faster recovery for patients. 
ClearCorrect
With the aid of digital impressions taken in our office, we can provide patients with complete teeth-straightening plans using ClearCorrect clear aligner trays. 
Intraoral Camera
We use an advanced intraoral camera to capture clear images of our patients' teeth and the insides of their mouths. These images allow us to better explain our treatment plans to you since you'll be able to see what we see when we look inside your mouth. We also keep these images on file to document each of our patient's treatment progress. 
CBCT
CBCT (cone beam computed tomography) uses special x-rays to create a three-dimensional scan of a patient's head and mouth. We use this imaging technology in our office primarily to aid in the preparation and placement of dental implants. 
Cutting-Edge Dentistry for Exceptional Life-Long Care
At Aurora Hills Dental, we're proud to provide our patients with advanced dental care using modern dental technology, treatment techniques, and tools. To learn more about the technology available in our office or to schedule an appointment with our dentist, Dr. Zalesky, we welcome you to contact us today.