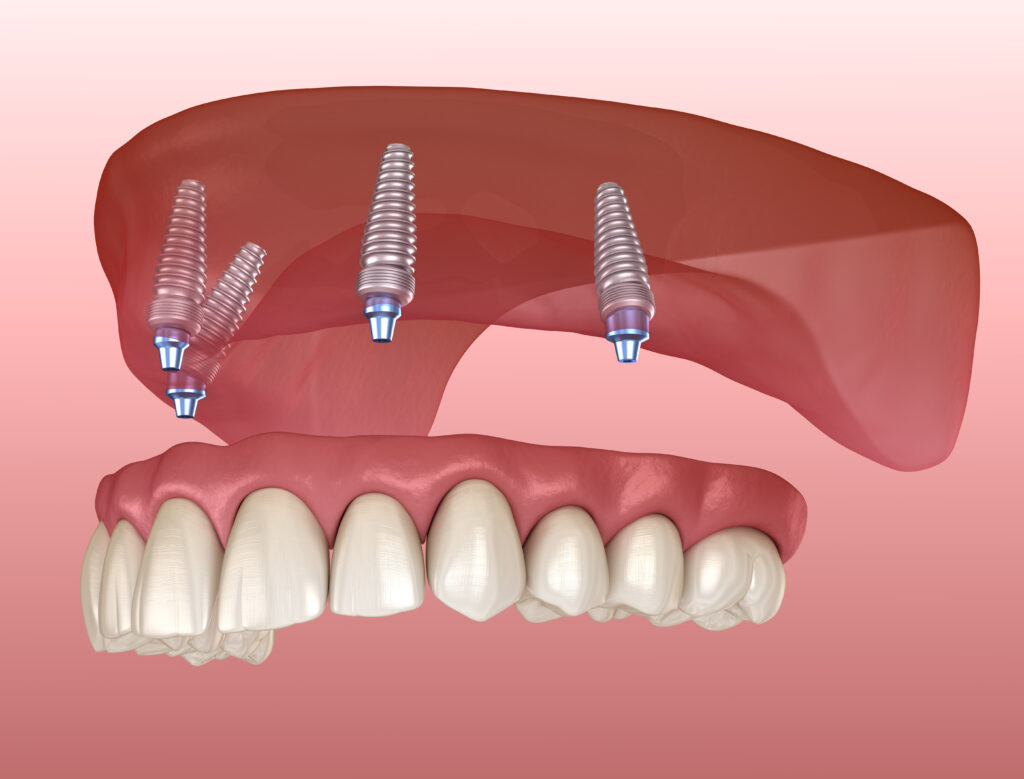 In the past, patients who were missing all or most of their teeth only had the option of replacing them with traditional dentures or one-for-one dental implants (i.e., one dental implant for each missing tooth). 
Advancements in dental technology and tooth replacement treatments have now made it possible to replace missing teeth with just four strategically placed dental implants on the top or bottom arches of the mouth. 
What Is All-On-4?
All-On-4 is a tooth replacement treatment option that provides patients who need dentures with a sturdier, more natural feeling alternative without the need for undergoing several surgeries to replace each tooth with an individual dental implant. 
The All-On-4 restorative option consists of a full denture that is permanently affixed to and supported by four strategically placed dental implants. All-On-4 can be used on the top and/or bottom arches of the mouth to replace one or both arches of missing teeth.
What Are Dental Implants?
Dental implants are a permanent tooth replacement option. A dental implant typically consists of an anchor, an abutment, and a cap or crown that replaces a missing tooth. 
With All-On-4 dental implant treatment, the four dental implants do not support dental crowns but rather support an arch of dentures designed to replace an entire row of missing teeth. 
The Benefits of All-On-4 Dental Implants
All-On-4 dental implants provide patients a far superior tooth replacement option compared to traditional dentures that are fixed to the gums using sticky denture adhesives. The benefits of All-On-4 include:
A natural look, feel, and function for tooth replacement

A stable fit without any of the slipping, sliding, or gum irritation associated with traditional dentures

Complete tooth replacement without the need for several surgical procedures

Easy to care for

Provides stimulation to the jawbone with an artificial root system that triggers bone growth to revitalize your jawline and preserve your face's bone structure

No need for using sticky denture adhesives
Find Out If You Are a Candidate for Treatment With All-On-4
All-On-4 is a wonderful treatment option for patients who are missing all or most of their teeth. However, it is not the best treatment option for everyone. Patients must be healthy enough to undergo the dental implant placement process and have no existing signs of dental disease or periodontal disease. 
If you are missing all or most of your teeth and are looking to replace your dentures with a better tooth replacement option, we welcome you to schedule a consultation with Dr. Zalesky at Aurora Hills Dental.