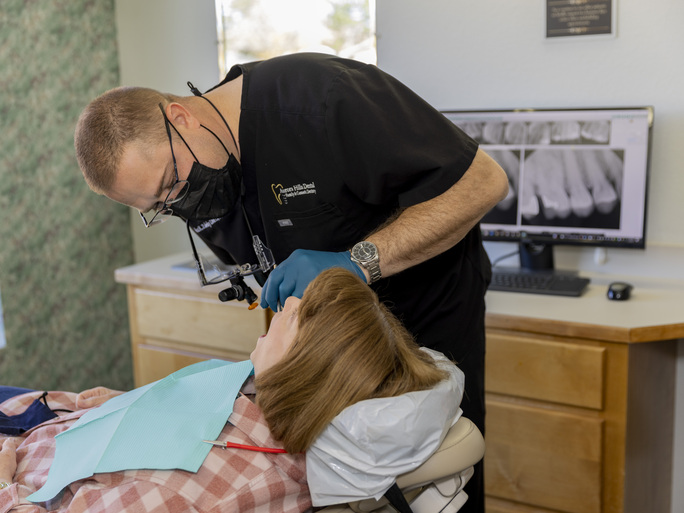 When a patient is missing all or most of their teeth along a dental arch, dentures can be an excellent choice for replacing the teeth and restoring their smile. There is a lot of stigma around the idea of wearing dentures, but modern dental technology has delivered dentures that are long-lasting, comfortable to wear, highly functional to use, and offer both a natural look and feel. 
At Aurora Hills Dental, we offer patients a variety of tooth replacement options designed to restore your smile to its natural beauty and function. If you're missing all or most of your teeth, then an option such as implant-supported dentures might be the right treatment option for you.
What Are Implant-Supported Dentures?
Traditional dentures are designed to rest against and fit snuggly and securely over a patient's gums. They are held in place partially as a result of suction to the gums and also with denture adhesive. 
Implant-supported dentures are designed to attach to a number of strategically placed dental implants. Dental implants are screw-like dental appliances that are inserted and integrated into the jawbone, acting as artificial tooth roots. 
The Benefits of Implant-Supported Dentures
Since they are fixed to dental implants, implant-supported dentures offer a much more secure and natural-feeling fit than traditional dentures. As a result, patients who choose this tooth-replacement option do not experience any of the slipping, chafing, or other irritation that can occur with traditional dentures. 
Implant-supported dentures also create an artificial root system that applies pressure and stimulates the jawbone that traditional dentures do not offer. This helps stimulate bone growth that revitalizes and preserves your jawbone structure. 
Types of Implant-Supported Dentures
Implant-supported dentures come in a variety of treatment options, and Dr. Zalesky can recommend the one that's best for you based on your needs and lifestyle. 
Full or Partial
Implant-supported dentures are available in both full denture and partial denture styles to replace all or some of a patient's teeth. 
Permanent or Removable
Implant-supported dentures can also be either permanently affixed to your dental implants or designed with the ability to be removed for cleaning or repairs. Implant-supported dentures that are not permanently affixed to your dental implants are often called overdentures or snap-on dentures. 
The Process of Getting Implant-Supported Dentures
When getting implant-supported dentures, the process always begins with a consultation and evaluation with our dentist. At this time, he evaluates your mouth, health, and smile restoration goals to determine whether or not implant-supported dentures are right for you. 
We then take digital oral impressions and x-rays to design and manufacture your customized set of dentures. 
We'll discuss the mouth preparation and dental implant placement processes with you. This process can take about six months for tooth extraction (if necessary), bone grafting or ridge augmentation (if necessary), implant placement and osseointegration, and complete healing. 
Once you are fully healed, Dr. Zalesky can affix your new implant-supported dentures to your fully healed dental implants. 
Find Out If Implant-Supported Dentures Are Right for You
While implant-supported dentures offer a great smile restoration option for patients missing all or most of their teeth in the upper, lower, or both arches, they are not the right choice for everyone. Candidates for implant-supported dentures must be missing all or most of their teeth, have good oral health, be free from periodontal disease, and have a substantial enough jawbone to support dental implants. 
To find out if implant-supported dentures are the right tooth replacement option for you, we welcome you to schedule a consultation and smile restoration evaluation with our dentist at Aurora Hills Dental.