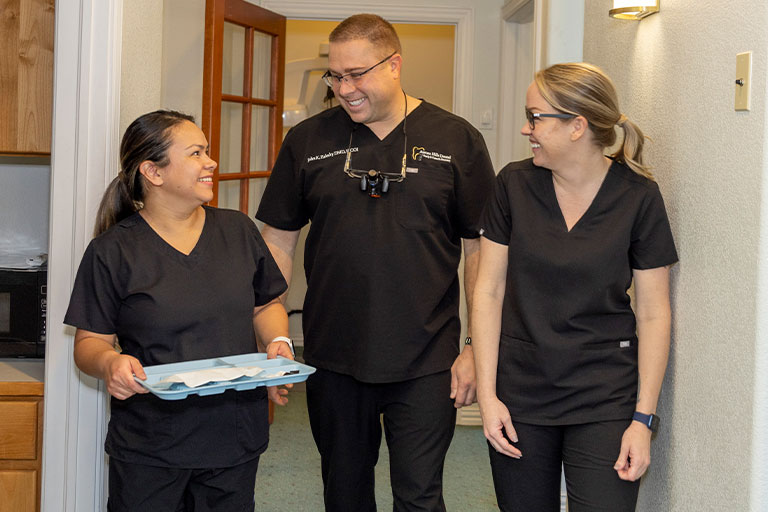 While every smile is unique and beautiful in its own way, we believe that everyone should feel proud of their smile and happy to show it off. Whether your smile has minor imperfections you'd like to correct, or you're hoping to have a more extensive smile makeover, our dentist, Dr. Zalesky, can help. 
At Aurora Hills Dental, we offer a comprehensive list of cosmetic dentistry treatments designed to address a wide variety of smile concerns.
What Is Cosmetic Dentistry?
Cosmetic dentistry is the branch of dental care that focuses on the look or aesthetics of a patient's teeth, gums, and overall smile. Although cosmetic dentistry can sometimes improve the health and strength of a patient's teeth, cosmetic dentistry treatments are primarily concerned with improving the appearance of the teeth by correcting imperfections, eliminating stains or other discoloration, and improving symmetry. 
What Kinds of Concerns Can Cosmetic Dentistry Address?
Cosmetic dentistry can address a variety of issues, including removing and/or covering stains or other tooth discolorations, changing the shape or size of a patient's teeth, filling in gaps, straightening crooked or misaligned teeth, improving the overall symmetry of a smile, and more. 
Cosmetic Dentistry at Aurora Hills Dental
We're proud to be able to offer our patients the smiles of their dreams with a variety of cosmetic dentistry treatments including:
In addition to cosmetic treatments, many patients with cosmetic concerns can also benefit from treatments that are considered restorative dentistry. These might include dental implants, dental bridges, inlays and onlays, and dental bonding. 
Schedule a Smile Consultation With Our Dentist in Aurora
We don't want you to simply feel good when you smile — we want you to feel amazing, happy, confident, and proud! Whether you want to refresh your smile with a simple whitening treatment or completely make it over with a combined treatment plan, Dr. Zalesky can help you get the smile you have always dreamed of having. 
During a smile makeover consultation, our dentist talks with you about your goals, examines your teeth and gums, and then recommends a treatment plan. We are always happy to answer any questions about what you can expect during treatment or regarding the results of your cosmetic dental treatment plan. 
There's no reason to hide your smile any longer! We welcome you to schedule a smile makeover consultation at Aurora Hills Dental today.