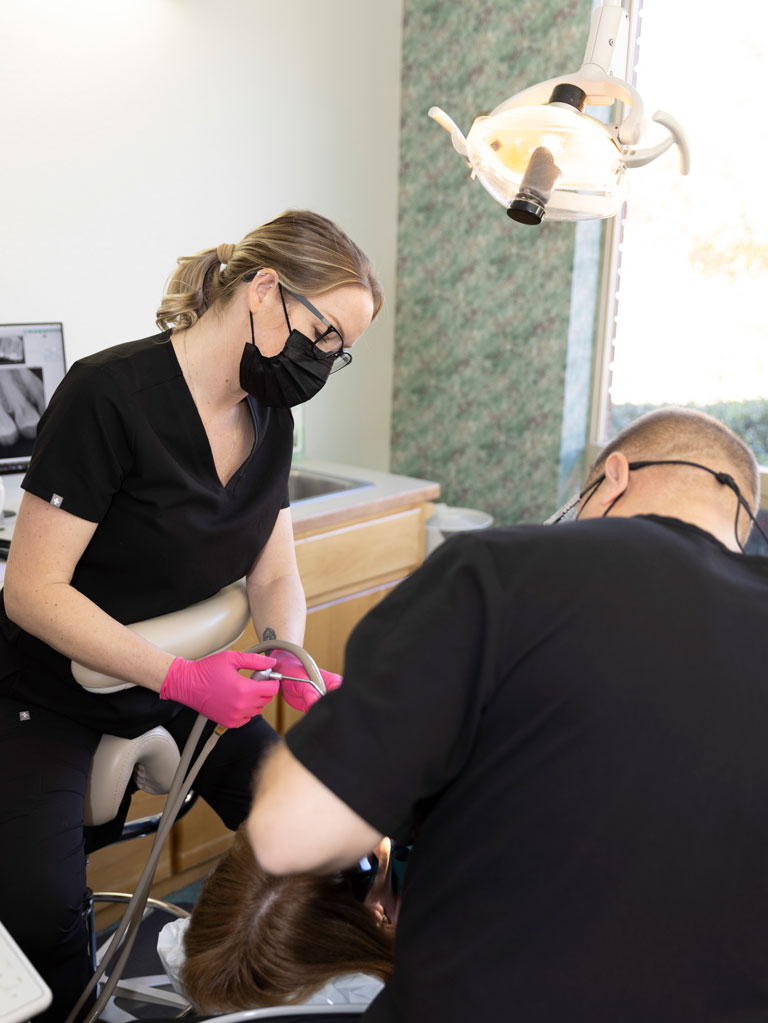 Often, patients in need of oral surgery must leave their primary dental care providers on a referral to an oral surgeon. At Aurora Hills Dental, however, our dentist Dr. Zalesky is highly experienced in performing a variety of oral surgeries. 
We're proud to offer these services to our patients, allowing them to get all the dental care they need in one location with the dentist and dental care team they already know and trust. 
Oral Surgery Services at Aurora Hills Dental
We provide the following oral surgeries in our dental office in Aurora:
Gum Grafting

Bone Grafting

Tooth Extractions

Socket Preservation

Ridge Augmentation

Sinus Augmentation

Dental Implant Placement Surgery

Alveoloplasty

Biopsy

CO2 Laser Surgeries

Frenectomy (tongue tie or lip tie removal)

Cold Sore Treatment

Gingivectomy
What To Expect When You Need Oral Surgery
If you need oral surgery, Dr. Zalesky and our dental care team's top priority is to ensure you are prepared for the procedure, have all of your questions answered, and know what to expect. 
Pre-Operative Consultation and Instructions
Before your oral surgery, we schedule a consultation with Dr. Zalesky. During pre-operative appointments, our dentist talks with patients about the recommended procedure. We gather all necessary medical history and information to ensure you are healthy enough to undergo oral surgery — especially if general anesthesia is required for the operation. 
We also provide you with some pre-operative care instructions, which might include starting an antibiotics regimen or taking other medications before your appointment. If general anesthesia is needed, we also provide you with instructions for restricting food before your appointment. 
During the Procedure
The length and process for each oral surgery differ depending on the type of procedure being performed. We always use only the highest quality medications and surgical tools available to ensure a smooth procedure and hasten your recovery. 
Post-Operative Care and Instructions
After oral surgery is complete, Dr. Zalesky provides patients with instructions for post-operative care and follow-up appointments, if necessary. 
Post-operative care might include things like taking antibiotics to eliminate an infection, pain medications if any swelling or pain is present, applying cold compresses, avoiding solid foods, irrigating a socket in your gums, or scheduling follow-up exams to ensure a normal recovery. 
If you experience severe pain, inflammation, infection, or other unusual symptoms following oral surgery, we recommend contacting our office immediately for a follow-up examination and treatment to address these symptoms. 
Schedule a Consultation With Our Dentist in Aurora
If you need oral surgery, have questions about an upcoming procedure, or would like to speak with Dr. Zalesky about your oral surgery recovery process, we welcome you to contact Aurora Hills Dental today. We are always happy to answer your questions over the phone or schedule a consultation with our dentist.